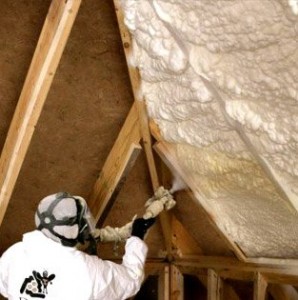 Maintaining a comfortable environment in your home doesn't come cheap, even if you live in a temperate region. According to a U.S. Energy Information Administration survey, the average U.S. household spends $2,024 on energy. Thankfully, the total average Louisiana home energy bill per year is lower than the average at $1,381, and this can be brought down even further by scheduling an energy audit to discover where your home is wasting energy. Not convinced an energy audit is useful? We've seen first hand, as a company that provides spray foam insulation to Louisiana, that homeowners who fixed the problems revealed by receive energy audits end up saving a lot of money.

What is an Energy Audit?
An energy audit involves a thorough inspection from a highly trained, certified energy rater, who will use equipment and expertise to find out where you are losing money on your home/business energy costs. The energy inspector with check for leaks in walls, ceilings, entry points, insulation, light fixtures, etc. using several methods including:
Blower door testing,
Duct testing
Thermal imaging using a thermal camera,
A/C Efficiency and air circulation testing
Why Should You Get an Energy Audit?
The most appealing benefit to getting an energy audit is that it will help you save money. You may have to pay to fix the issues the energy rater finds during the inspection, but once your home has better insulation, effective A/C and air ducts, and is properly sealed to eliminate leaks, your energy consumption will drop and money saved will rise. There are also government incentives being offered to home and business owners who try and decrease their energy consumption, earning you even more money. And aside from all the money you'll be saving, you'll also be able to enjoy a more comfortable living environment, one that is evenly cooled, heated and energy-efficient.
Some Excellent Louisiana Energy Auditing Companies
Our Louisiana foam insulation company has done the research to locate some excellent energy audit companies and resources that can help you lower your average energy bill by hundreds of dollars. They know all about reducing energy consumption, conducting energy audits, and they even go above and beyond by offering resources which educate and inform on energy saving and alternative sources.
River View - Solar, Electric, and Thermal Heating
http://www.riverviewsolar.com/energy-audit/
Why We Like Them: Locally based company in New Orleans. Provides a list of government incentives for energy efficient heating.
Dasolar.com
http://www.dasolar.com/solar-blog/
Why We Like Them: Online energy audit form http://www.dasolar.com/energy-audit/louisianaA blog that helps educate and implement energy efficiencyOffers plenty of info about solar and other alternative energy sources
Star Energy Audits
http://www.starenergyaudits.com/
Why We Like Them: Savings through their Whole Home Energy Savings Limited Guarantee. Guaranteed that you will save 20%-40% on your energy costs. Offers plenty of information on home energy problems and solutions.
Foam Insulation Can Help Louisiana Become Energy Efficient
Once you've been visited by an energy audit expert and received a report, it's time to start filling in the gaps! One of the main causes of leaks in a building is poor insulation in walls, attics, and around air ducts. Spray foam insulation is extremely effective at stopping leaks, as it can fit into even the smallest areas and can be used to insulate any space. If you're wanting to stop leaks in your building and cut down on energy consumption, we are the largest provider of spray foam insulation in Louisiana, offering insulation services to cities including Baton Rouge, New Orleans, Hammond, St. Tammany, Lafayette and more. With so much experience, we know exactly where to seal your home or office and will get the job done thoroughly and conveniently. Schedule a free estimate with us and we'll show you how you can reduce your energy consumption and stop paying so much on energy bills!